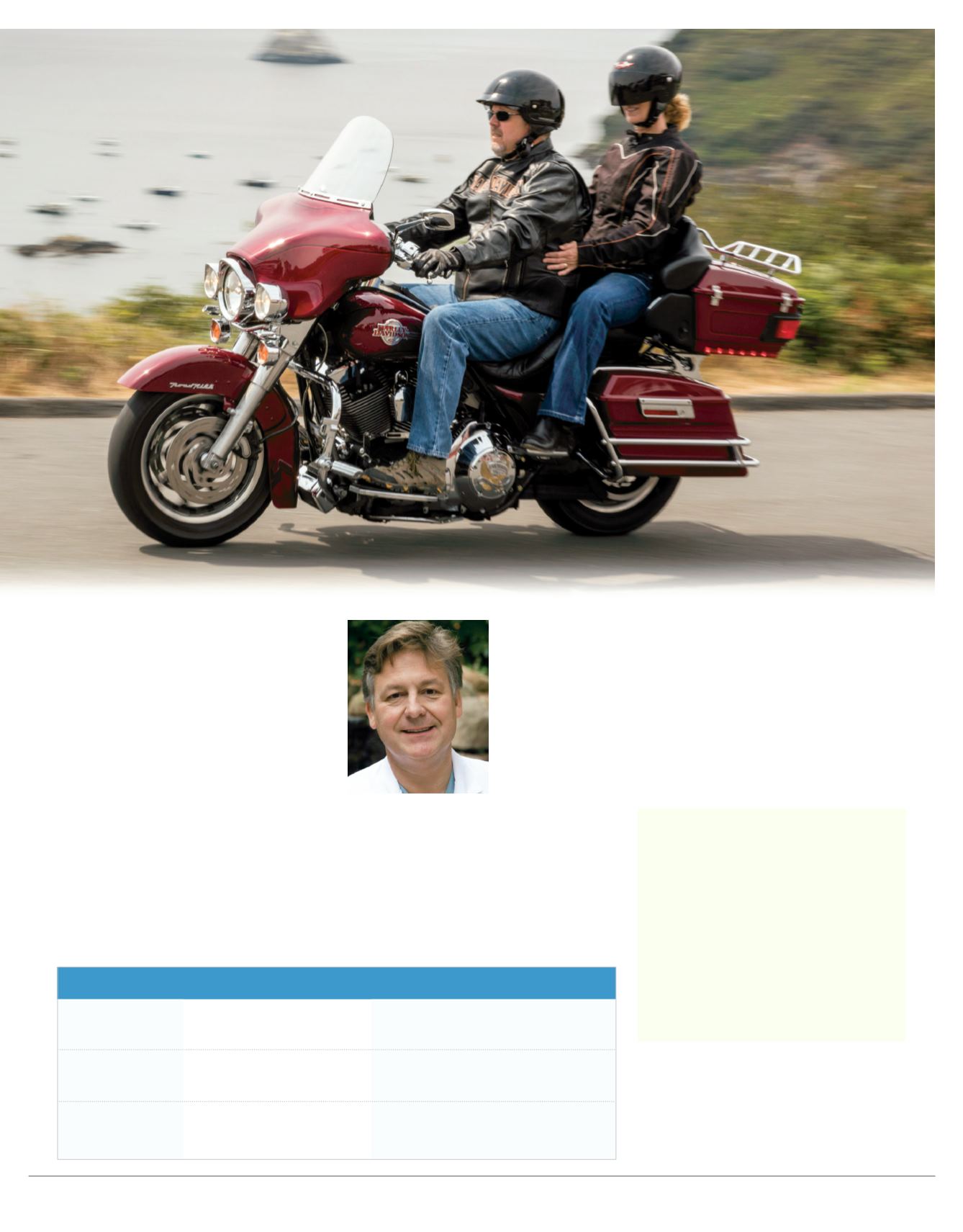 w w w . s t h e l e n a h o s p i t a l s . o r g | 5
aorta made of a
sturdy synthetic
fabric.
Although recovery
from surgery
was painful at
times, Olson now
feels great—and
grateful. The
sound of a fire
truck will always fill his heart with longing,
of course. But he knows he's been lucky.
touches like the valet parking and the
on-campus housing for family made them
feel cared for.
As Olson waited on a gurney to go into
surgery, a woman who worked at the
hospital offered to massage his forehead
and temples. In a few minutes, he says,
"She made tons of stress go away."
In a February 2015 open-heart surgery,
Dr. Sakopoulos replaced Olson's aortic
valve and ascending aorta. Olson received
a tissue valve from a pig and an artificial
A new valve: tissue vs. mechanical
What are the symptoms?
People with mild aortic valve disease
may not have noticeable symptoms.
But untreated, it can lead to:
CHEST PAIN.
SHORTNESS OF BREATH.
FAINTING.
FATIGUE.
When considering valve replacement, patients have two options to discuss with their surgeons:
MECHAN I CA L
To learn more about our highly
skilled cardiologists and surgeons,
visit
www.adventistheart.org.
Or call 888.529.9018 to speak
with a client services advisor.
T I S SU E
A pig or cow.
Manufactured from
carbon and titanium.
Source
Usually doesn't require
taking a blood thinner.
Extremely durable—the chance it will
need to be replaced is small.
Pros
May need to be replaced
after 10 to 20 years.
Requires taking a blood thinner
to prevent blood clots.
Cons
Andreas Sakopoulos,
MD, FACS
"The care I received was just terrific,"
he says. "I really didn't realize how sick
I was before until I started feeling better.
In hindsight, getting out when I did was
a real blessing."
He has more energy now and a better
mental outlook, he says. He's ready for his
second act—whatever it may hold.