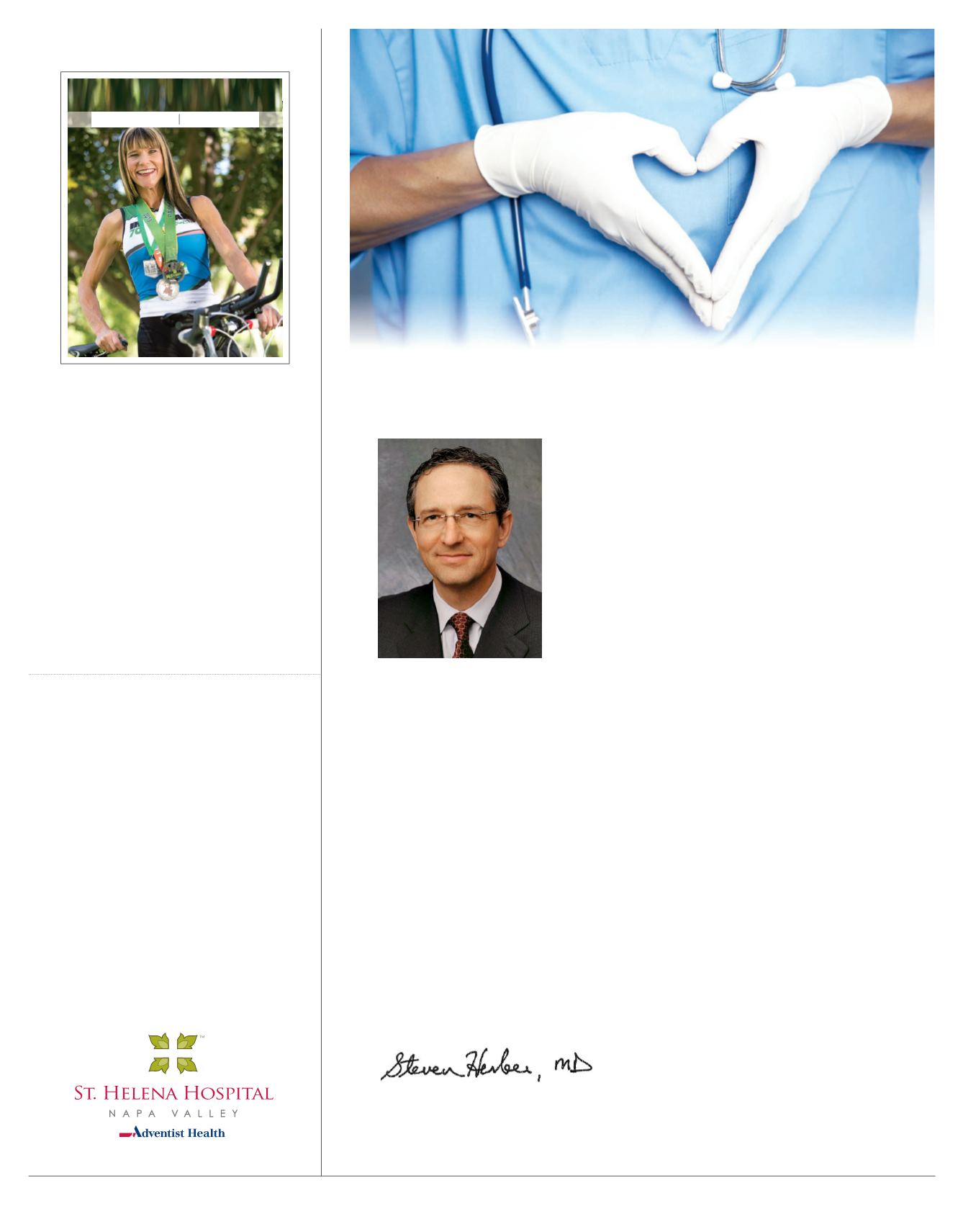 2
|
L i v e Yo u n g e r L o n g e r
LIVE
YOUNGER LONGER
An iron-willed
athlete reclaims
her heart rhythm
Heroic heart.
What happens when a
lifesaver needs saving.
When heart valves leak.
What should you do?
BROUGHT TO YOU BY ADVENTIST HEALTH NORTHERN CALIFORNIA NETWORK
The days are growing longer, and we hope
your heart will be warmed by the many
stories of renewed health you'll find in this
heart-themed issue.
Our patients mean the world to us.
People like Claude Sterling, who had been
struggling with heart problems for years
until an innovative procedure at St. Helena
Hospital gave him a new lease on life.
Or Jenni Blendu, who shaved 27 minutes off her Half Ironman time
after her heart surgery—finally free of the atrial fibrillation that had
held her back.
And then there's Keith Olson, a former firefighter whose own life
needed saving when a routine checkup turned up a heart murmur.
Stories like these are the reason we continue to look for ways to
reach out and help more people.
And they're why we're excited to introduce our new hybrid OR.
This combined catheterization lab and operating room will help our
patients experience less invasive procedures and faster recovery times.
We are committed to providing the highest standard of care—
with the most heart. Thank you for allowing us to help you
Live Younger Longer
™
.
STEVEN HERBER, MD
President & CEO | St. Helena Hospital
From our heart to yours
Live Younger Longer
is published as a
community service for the friends and patrons
of St. Helena Hospital,
10 Woodland Road, St. Helena, CA 94574,
telephone 707.963.3611,
website
www.sthelenahospitals.org.
Steven Herber
MD, FACS, President & CEO
Jill Kinney
Executive Director Corporate
Development Strategy
Information in
Live Younger Longer
comes
from a wide range of medical experts.
If you have any concerns or questions about
specific content that may affect your health,
please contact your health care provider.
Models may be used in photos and illustrations.
in this issue
page 3
When heart valves leak
pages 4-5
An iron-willed athlete
reclaims her rhythm
pages 6-7
Heroic heart. What happens
when a lifesaver needs saving?
S
UMMER
2016